How to create exceptional card designs out of japanese and polish Art
Even as a child Anina Takeff knew she was going to be an artist some day. Hence, she decided to study at the New Bulgarian University in Sofia to pursue her vocation. From this day on, she devoted all of her time to art. In an interview we asked her how this young girl became a recognized artist.
Interviewer: How would you describe yourself and your career as a designer in just a few words?
Anina: As a child I've spend hours in my room painting and making up stories. Even then I knew that I'd be an artist someday. After finishing my A-level I summoned up all my courage and started my studies in Visual Communications at the New Bulgarian University. Thinking back I'd say I always made the right decisions and regret nothing.
Interviewer: How did you get the idea of becoming a professional designer?
Anina: In my family there are teachers, doctors and politicians but no one with an art background- so I guess I went on a new path. Character-wise I was always quiet and concentrated – I observed my surroundings. If one goes through life with open eyes, appreciating the beautiful things and has a talent for creating, one has a great chance of becoming a Graphic Designer.
Interviewer: Who or what has influenced you the most as a designer?
Anina: Finnish Graphic Design as well as polish and japanese poster art have fascinated me for a long time now. Especially the japanese Illusionist Shigeo Fukuda with his accurate and meaningful posters has influences me the most.
With much love and passion Anina Takeff creates diversified card designs for EventKingdom. Here, the use of water colors gives every card a unique character. Are you planning the next birthday party or even your own wedding? Then, get inspired by the card designs of our talented designers.
---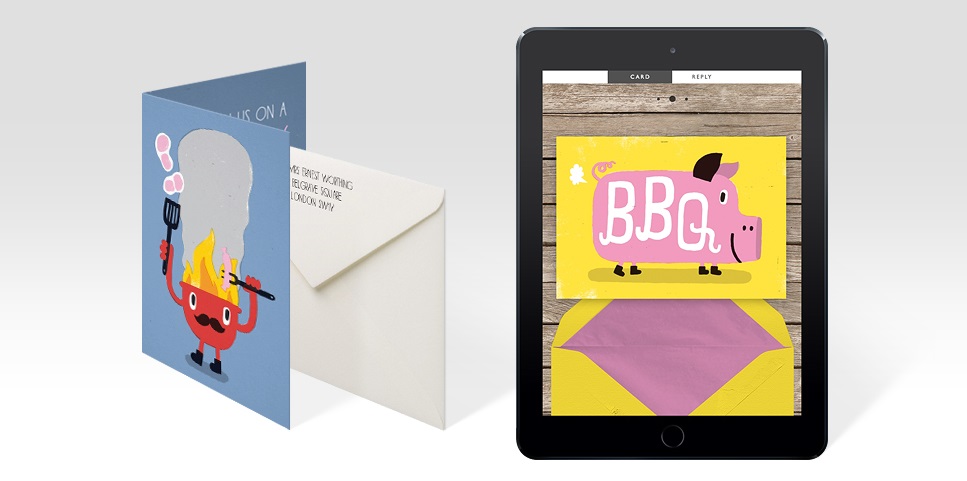 A colorful world squeezed in card format
Frederick Strasche is a young and talented illustrator who is designing magazines, children's book covers and commercial ads. Since May 2015 he designs cards for EventKingdom. His humorous and colorful cartoonlike card designs give each online and paper card that special touch. In an interview we clarified the question where he is getting his inspiration from to put this colorful world in card format.
Interviewer: How would you describe yourself and your career as a designer?
Frederick: My interest in pictures in general has been developed when I was a child. Since I was little I felt the urge to express myself through pictures. This urge has increase even further throughout the years. I began by copying comic figures like Donald Duck and Mickey Mouse. Later, at the age of 11 I started skateboarding. During this time I began drawing the logo of skateboard brands. Through skateboarding I came into contact with the graffiti and street art scene. This still shapes my work as an illustrator nowadays. In 2008, I began my studies as a graphic designer specializing in illustration. This development is still continuing.
Interviewer: Where do you get your ideas for your card designs from?
Frederick: I always loved designing post cards. Most of my ideas were stuck in my head for a long time already. Hence, I am very happy to finally being able to realize my ideas and put them onto paper.
Interviewer: What inspires you in life? Where are you the most creative?
Frederick: I draw my inspiration from everything that surrounds me. This might sound a little cheesy but I couldn't describe it in any better way. Everything can be inspiring for me. When travelling or being in nature I always get many great ideas.
Interviewer: Are there any special places in Hamburg that excite creative thoughts?
Frederick: Hamburg has a couple of good museums that I visit occasionally. I like to go for a walk or ride my bike along the Elbe to clear my head. Sometimes I take the train without any specific destination and let my thoughts run freely.
Designs of Frederick Strasche are available for online invitation cards as well as for paper cards at EventKingdom. Would you be interested in the designs of a burning brazier for your next barbecue or a dancing groom's hat for a wedding? Frederick Strasche has them all – check out his beautiful card collection.
---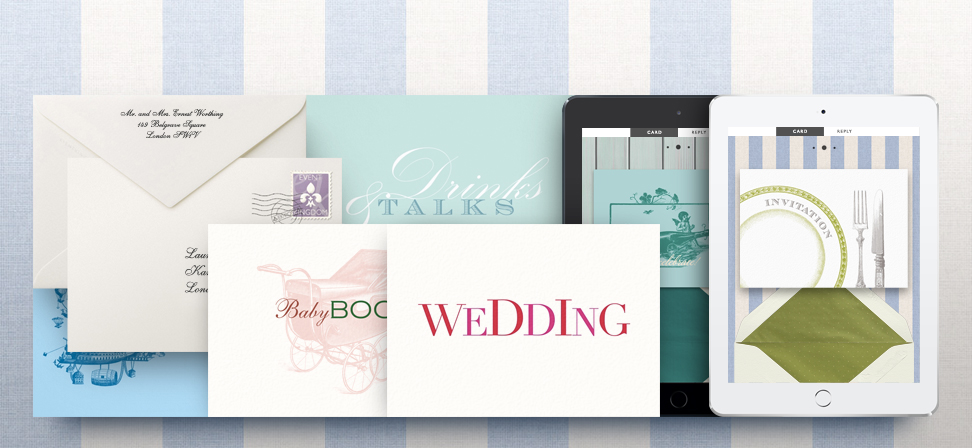 Who stands behind paperthings?
Larissa von Buchwaldt is the owner of the card publisher Langelütje in Hamburg. In 2012 she opened the online shop paperthings and with this project she fulfilled a childhood dream. There, customers are able to find lovingly designed paper cards and several gift ideas. Since April 2015 she is creating beautiful and imaginative card designs for EventKingdom. They can be bought on the EventKingdom webpage. Her designs are characterized by her straight forward style and her love to details. But who is the person behind paperthings? We wanted to find an answer to that question with the following interview.
Interviewer: How would you describe yourself and your career as a designer?
Larissa: I am a rather spontaneous than shy person but really authentic. If I am convinced of an idea I convert it immediately in something. I usually don't think much about the success that might follow my idea. If I want something than I go for it. I usually make decisions based on instinct and heart. My career wasn't straightforward: I studied History, worked as a contributing editor for many years and finally I worked in the book industry. Becoming an entrepreneur was quite the spontaneous idea of mine that still fascinates me nowadays.
Interviewer: Where did you get your ideas for new card designs?
Larissa: Basically, I didn't really like any of the card designs made in Germany. It was my love of texts and messages which I could arrange in small spaces that made me want to create postcards by Langelütje. That challenged me. The ideas come from my inspiration that I am finding on a daily basis either consciously or consciously. The trick is to retrieve and convert it at the right time.
Interviewer: What inspires you in life?
Larissa: Nature, especially its colors inspire me the most. Music and literature, but also my friends, my husband and my children of course – my whole life, if you want to put it that way.
Interviewer: Where are you the most creative?
Larissa: At home in my office. Sometimes even in a café. But always in very private surroundings. There, I can listen to the music I like, I have my documents all and all my pens and paper that I need for textual designs or sketches. Furthermore, I have my bulletin board which is essential for putting my inspiration in order.
Are you planning your next summer fest or corporate event? Is the most important day in your life ahead of you? Look through our card collection of paperthings and be inspired by them.
---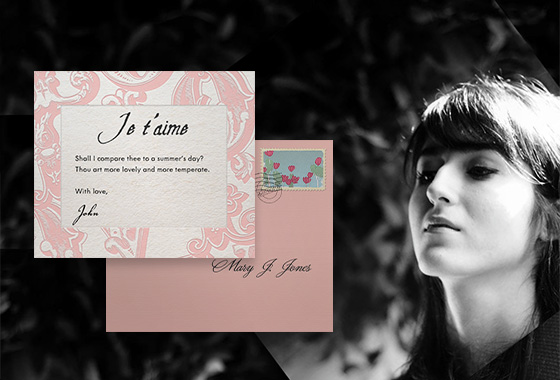 Where creativity comes from
The young designer Anina is one of our young and talented designers and creates stylish motifs for our EventKingdom Cards. Among others she created the most popular Valentine´s Day Card with the lovely slogan Je t´am. But where does this phenomenal creativity come from? What inspires her? To discover, who is behind this beautiful card design we asked Anina 5 short and concise questions. Read more here:
Interviewer: You have created the most popular Valentine´s Day Card. Where did the idea for the design come from?

Anina: I tried to image what kind of card I would like to receive – you can find a sense of romantic even in the most modern woman. Therefore I like to make use of traditional ideas and combine that with a touch of modernity.
Interviewer: Does the Valentine´s Day mean anything for you?
Anina: It is a good occasion to show my partner through a little thing how much he means to me. Nevertheless, it is important that our partner feels loved also the rest of the 365 days of the year.
Interviewer: Do you celebrate Valentine´s Day?
Anina: Yes, because love is important. That is the reason why you should take this possibility to celebrate love and to spend a wonderful day with your partner.
Interviewer: What inspires you?
Anina: A lot of things inspire me. I watch movies, visit exhibitions and collect illustrated books. Even a walk in Berlin can be inspiring for me. You can see so many poster on the streets, which can not be ignored! Berlin itself inspires me.
Interviewer: In which environment do you prefer designing?
Anina: To be honest, I prefer designing in the biggest and most luminous room at home, which has not many furnitures in it. These are precisely the places, which emanate peace and where I feel free and can focus on my projects. That is where my creativity can float. Big, noisy and colorful locations inspire me but I need a peaceful atmosphere to design.