Benefit from our "public event option" and make use of your beautiful EventKingdom online post sending in every possible way, e.g. using your own mail program to forward your sending as you wish, linking your newsletter or sharing it on Facebook, Instagram, or Twitter.
After setting up the "public event option" you will have access to a link or email, which you can use, forward or share as needed.
Both options "link" and "email" are not personalized and show the event name on the animated envelope. Each visitor can reply on the reply page using their name and email address. All replies are grouped in the event's recipient list. If you dont set a guest limit yourself, there is no limit to your replies.
In addition to sharing the unpersonalized sending you can of course always add recipients to your recipient list and send out private, personalized emails. This makes sense, if you have some more important recipients you wish to address personally. The rest can register as needed on the public event.
The following events by customers of EventKingdom have led to the developement of this new "public event option":
Online example 1: You have one company email for all employees
You would rather send one invitation email to one company email address than upload all your employee emails to EventKingdom. Your company email is setup to automatically forward an email to all employee emails (e.g. 5000). All employees receive the online post invitation and can reply with their name and email on the public event reply page. The number of replies is settable by you. Of course, only people, who have access to the invitation email, can access the public event and reply.  This feature can save you money compared to sending e.g. 5000 personalized online post invitations. So, if personalization is not so important, then purchasing the Professional plan which offers this public event option could be the smart thing for you to do.
Online example 2: Integrate invitation into your standard newsletter
A company wanted to integrate the EventKingdom envelope into their newsletter and connect it to an online post invitation. The company wanted to use it's standard tracking tools within it's existing newsletter system. This is now possible when you purchase the Professional plan, which contains this public event featue. After purchasing the professional plan, you will have access to a link which you can add to any image, e.g. a digital envelope in your newsletter. Your newsletter recipients can then access the online post sending and reply with their names and emails. You can use your existing tracking system to track all clicks on the image in your newsletter. Replies are neatly grouped in your recipient list on EventKingdom.
Online example 3: Save the date mailing
A customer wanted to send a beautiful online post save the date to their recipient list, but did not want to upload their recipient list to EventKingdom. This is now possible via the new Professional plan. After purchasing the professional plan the customer was able send himself an unpersonalized online post save the date email containing the design they chose and finalized. They then forwarded this email to their recipient list. All recipients were able to save the date and add a message if necessary.
Paper online example 4: Paper send out with online registration
A customer wanted to send paper invitations and offer an online version for event information and RSVP. This is now possible within the Professional plan. After purchasing it you can access a link on the reply page of your event. You can use this link as you wish, e.g. adding it to any domain you have. You can also ask us to organize an event domain for you. After setting up the domain the customer printed various paper products, such as flyers, posters, invitation cards etc. and included the domain for online access on the printed paper products. Any person, who has access to the public event domain, can reply with his name and email. Limits are settable by you.
Paper online example 5: Paper send out with public event option and QR code
This example is similar to example 4. In addition to printing the domain on the reply card or poster, you can add a QR code. Your recipients do not need to type in an event domain, but can access the online event version quickly with any QR Code reader or e.g. with the QR Code reader inside the EventKingdom app.
Paper online example 6: Paper send out with reply codes for online registration and guest management.
This feature adds access security to your online event and limits the registrations to the invitations you sent out. To read more please see our article "Paper invitation with personalized codes".
We hope that you found this article interesting and helpful. If you have any questions please do not hesitate to contact us.
Yours Truly, Patrick Ribbentrop
---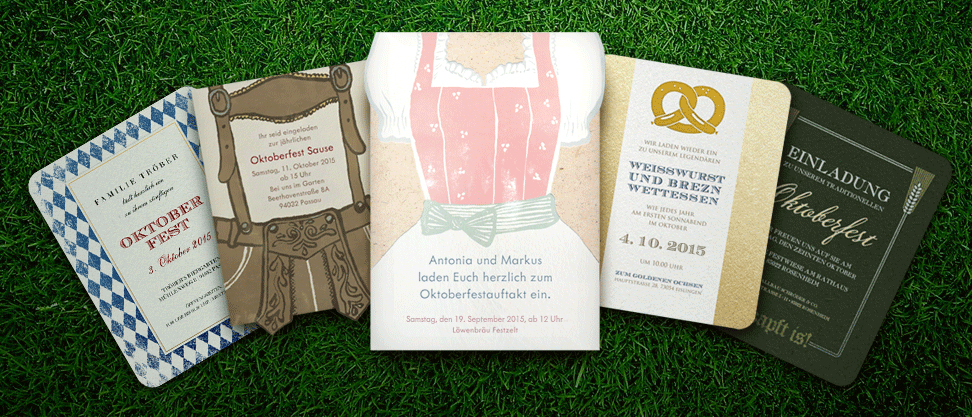 Fun designs for Oktoberfest and Tracht invitations
How to wear traditional Bavarian costumes?
As every year there will be Oktoberfest celebrations all around the world from the end of September to the middle of October. People will be drinking typical bavarian beer, eating pretzels and sausages. Identically important as the typical dishes is putting on the right outfit. Down below, we have come up with the most important dress code Do's and Don'ts for your Oktoberfest party.
How to wear a Dirndl:
The Dirndl is the typical bavarian dress women like to wear attending the Oktoberfest in Munich. If you're currently living in a country where there are no Dirndl dresses anywhere to be sold, you can easily purchase them online in all different styles and sizes. There, you should pay attention the style of the dress as it is supposed to show your personality. Furthermore, the length of the dress is important. A classic Dirndl will be as long as your ankle. This length is typically worn on festive occasions. Thigh-long Dirndl are quite popular as well. Young women usually wear dirndl as long as their knee. A Dirndl should never be worn any shorter if a stylish look want to be accomplished. Furthermore, the question of where to bind the bow of the apron. Is the bow tied in the front in the middle the wearer wants to point out her virginity. Therefore, young girls wear their bow in the middle. If the bow is being tied back in the middle, the wearer wants to indicate being a widow. The bow will be placed a lot more often in the front. If it is placed on the right side the woman is already taken. However, if the bow is placed on the left side the woman still single and might be up for a little flirt.
How to wear leather pants:
Also the men should pay attention to the Oktoberfest dress code as leather pants are a must have. Paired with a trendy dress shirt with checks, stripes or plain you will look sharp. With suitable footwear, a brooch, calf warmers, suspenders, a pocket square or a nice hat your outfit will be perfected. Under no circumstances should one waive socks, and let suspenders hang down (Anyone who doesn't feel comfortable wearing suspenders can easily pair his leather pants with a nice traditional belt). Undershirts, Flip-Flops and cheap traditional clothing made in China shouldn't be worn either. Most importantly when attending an Oktoberfest party, you should be having fun. So, enjoy your bavarian beer, your sausage or your pretzel.
If you'd like to host your own bavarian Oktoberfest party, check out EventKingdoms Oktoberfest-themed invitations and card designs and invite your guests in style.
---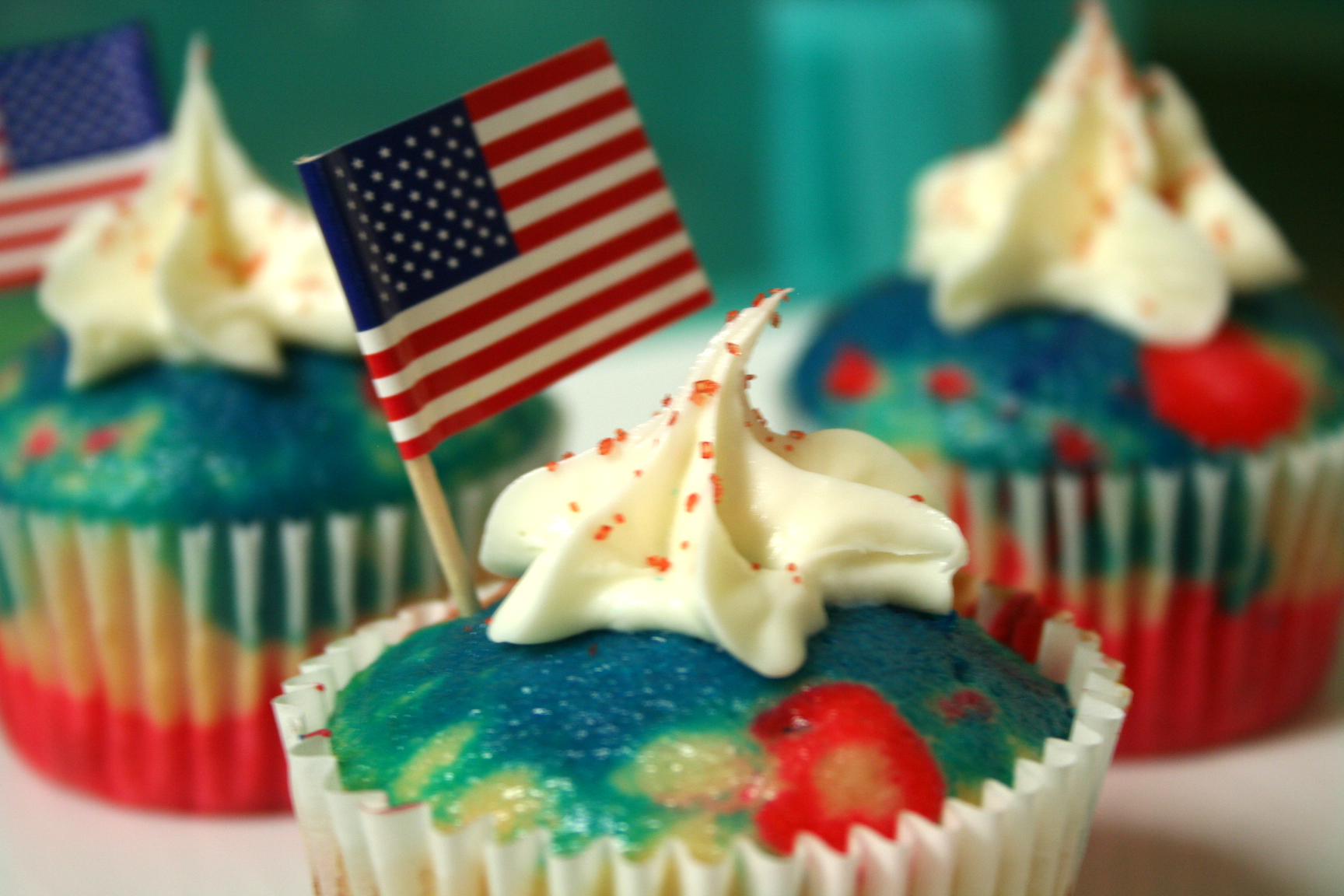 A must have for your upcoming Independence Day Party!
Are you hosting a big 4th of July BBQ party this year? Nothing is better than a Hamburger or Hot Dog while relaxing in the sun with family and friends. But to make this BBQ party stand out we've put together five great 4th of July DIY decoration ideas for you. They will make your BBQ unforgettable.
1) Patriotic Center Piece
Have you set the table but it's just not putting you in the Independence Day spirit yet? Here is an idea that will make your dinner table stand out. You'll need three glass jars or vases, red and blue food coloring and a couple of daisies. Dye one jar blue and another red. Leave the third one untouched. After everything is dried down, line them up, fill in some water and place the daisies in the jars. This will make a beautiful center piece for your dinner table.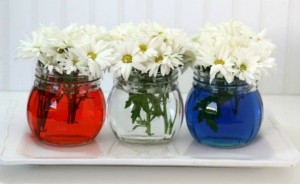 (source: pinterest.com/eventkingdom)
2) Independence Day Themed Tin Cans

If you need something for the buffet than we have the perfect DIY decoration idea for you.  Why don't you spray paint some old tin cans in the colors of red, white and blue to place knives, forks and spoons in. A cute white bow with little blue stars will make them stand out even more.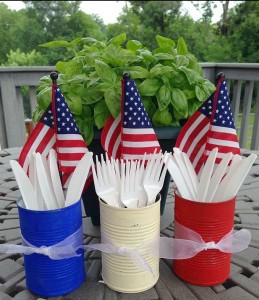 (source: pinterest.com/eventkingdom)
3) Balloon Pinata for some Fun

How about a cool pinata for each of your guests?! You'll need red, white and blue balloons and some yarn to hang them on. Gather some 4th of July themed chocolates, candies, bracelets, tattoos and sparkling necklaces. Everybody should get one balloon and a toothpick to burst the pinata.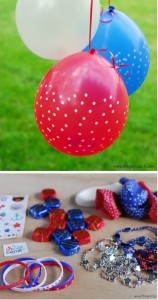 (source:pinterest.com/eventkingdom)
4) Colorful Stars for a Fancy Backyard

For an extra fancy backyard take out a cardboard and cut out a big star. Use water based spray paint in the colors red, white and blue to paint stars on your lawn. In using glow-in-the-dark spray paint all of your guests will be amazed when sun sets, fireworks start and the stars on your lawn begin to lighten up the night.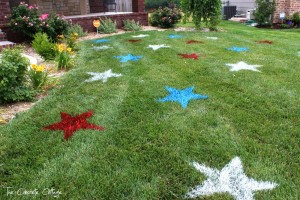 (source:pinterest.com/eventkingdom)
5) Rice Lanterns for a little extra bit of Patriotic Sparkle

Another great idea to lighten up the night is to dye some rice in the colors of red and blue and layer them with some regular white rice in a glass jar. Put a candle on top and you'll have super cute and patriotic candle lanterns.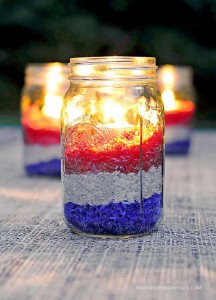 (source:pinterest.com/eventkingdom)
Feel free to check out our Pinterest page to get more inspirations.
---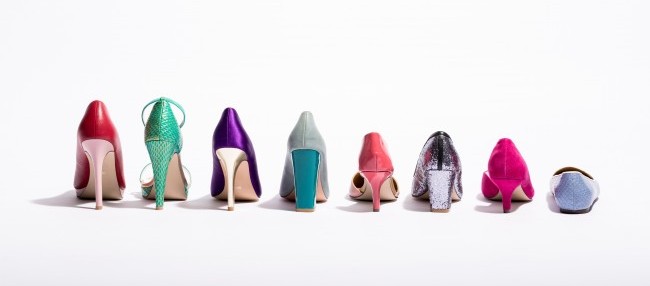 Are you still looking for the perfect bridal shoes for your wedding?
There is no need for searching desperately for the perfect bridal shoes for your wedding day. Shoes of Prey is the answer to all your prayers. There, you can create your own bridal shoes.
With the start-up company Shoes of Prey from Down Under you can choose between 12 different shoe shapes and 170 different materials. With one click you can put together your perfect shoes for your wedding online. There, you can purchase your dream high heels for 149£ (app.:236USD) and your favorite flats for 109£ (app.: 173USD). Please take note of the fact that it takes about 5 weeks from ordering to receiving your unique pair of shoes. In case you don't fancy the bridal shoes after arrival, Shoes of Prey has a 365 day return policy that makes it easy to send back your bridal shoes or place a new order.
(All images are taken from: www.shoesofprey.com)
---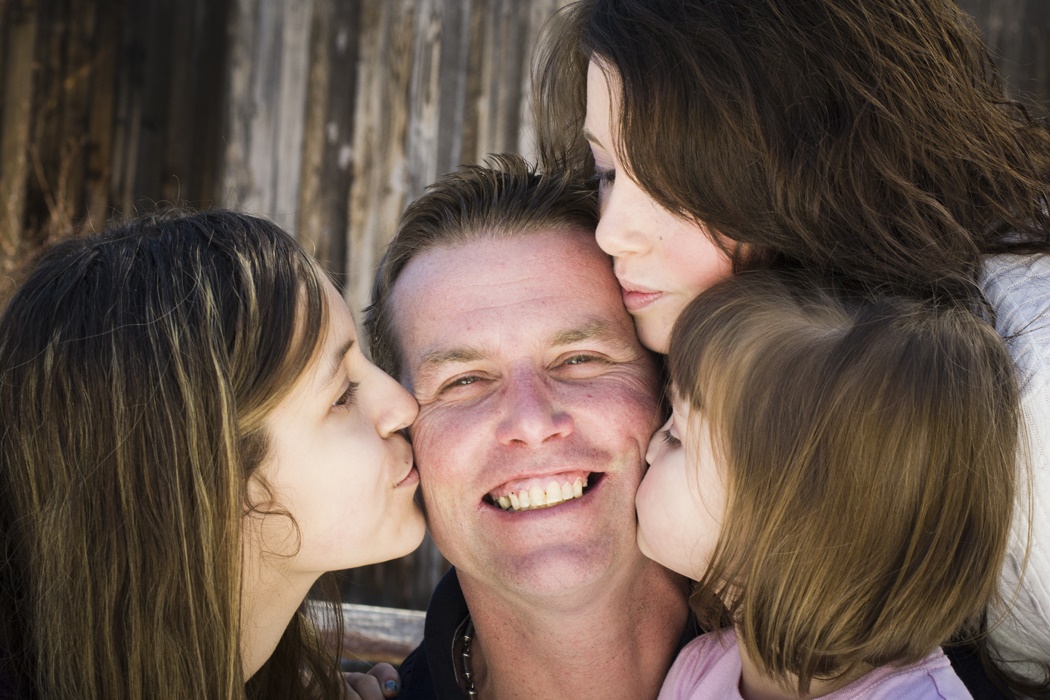 Last minute DIY gifts for the upcoming Father's Day
Father's Day is right around the corner and you and your kids still don't have a clue of what to get the hero of your world? We know, life can be stressful. So, here are 5 quick and easy DIY gift ideas for Father's Day you can do with your kids.
Last minute DIY gifts for the upcoming Father's Day
Father's Day is right around the corner and you and your kids still don't have a clue of what to get the hero of your world? We know, life can be stressful. So, here are 5 quick and easy DIY gift ideas for Father's Day you can do with your kids.
1) I'm walking in my Heros shoes
All you need for this precious gift are some shoes of dad and water colors. Make an imprint of dads shoes and the feet of your kid. Let everything dry and write the sentence "Walking in my Hero's shoes" on the paper. A nice frame gives this special gift a nice touch.
*Easy & Thoughtful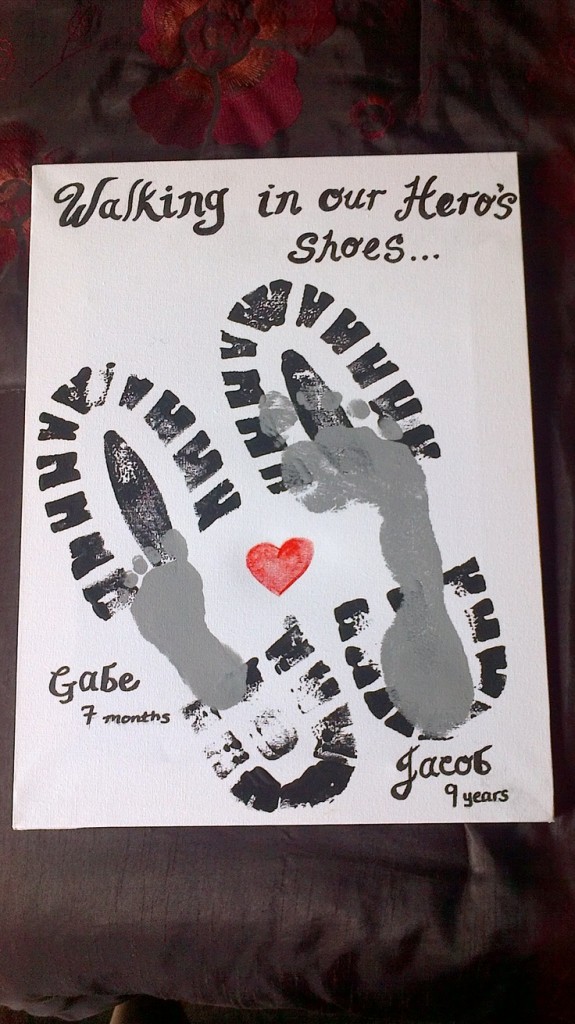 (source: pinterest.com/eventkingdom)
2) The candy bar card for Father's Day
This gift is easy to make and doesn't cost much. You simply need to think of what you'd like to write on your card and find the matching candy bar to fill in the missing words.
*Easy & Yummie!

(source: pinterest.com/eventkingdom)
3) Coffee Cup Excitement
Are there ever enough cups in this world? If daddy is a tea or coffee lover, this is the perfect gift idea for him. Buy a plain cup and painters pens (You can get both inexpensively at Walmart) and stick letter stickers on the mug to spell out 'DAD'. Then, your kids can have some fun, coloring on the cup in whatever way they like. Remove the stickers and bake the cup for 30 min. Fill up the cup with some candy of your choice and include a beautiful card and you are all done.
*Easy & Creative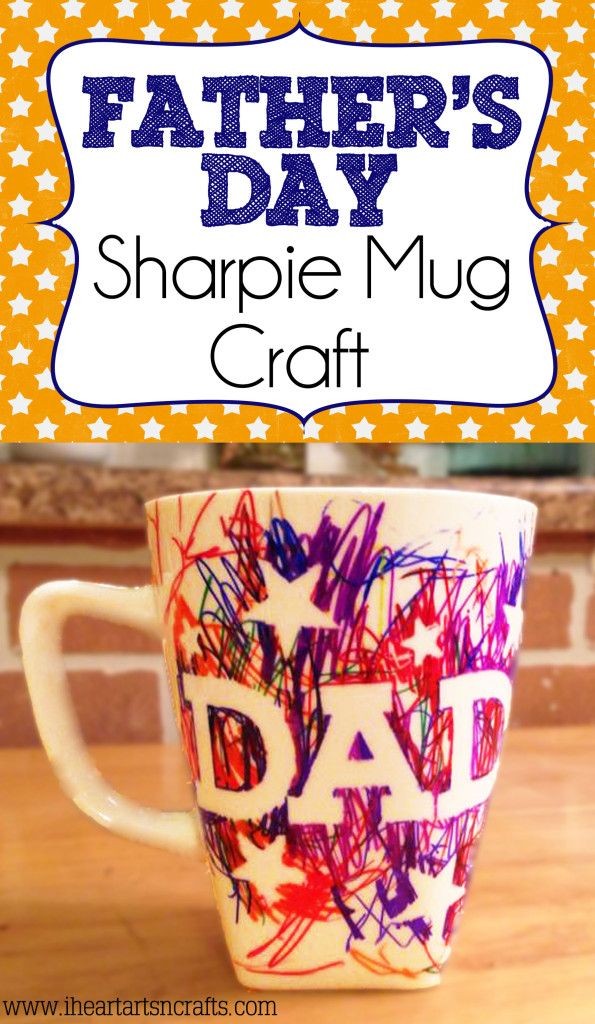 (source: pinterest.com/eventkingdom)
4) My Dad the Hero
This is for the hands on dads. You'll need a  wooden board and some water colors. Get your kids to imprint their hands on the board and write the sentence "We have a HERO we call him DADDY". You can put some nails on the bottom of the board where hammers, pliers and screwdrivers can be hung on.
*Easy & Useful

(source: pinterest.com/eventkingdom)
5) Books are the Best
This is for the bookworms out there. If daddy loves reading he'll definitely be in need for bookmarks. Printing out pictures of your kids with their arms up and transforming it into a book mark is not only easy but will make their daddy smile, especially if their belly buttons are showing.
*Easy & Fun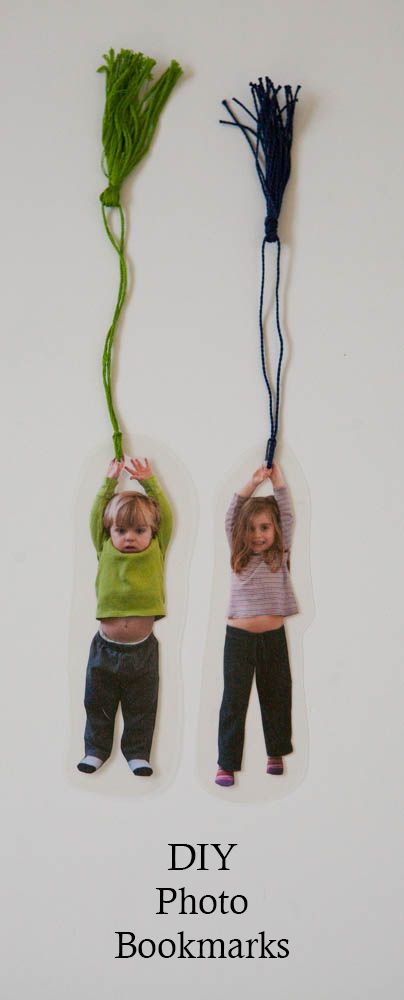 (source: pinterest.com/eventkingdom)
Feel free to check out our Pinterest page to get more inspiration.
---
I do! – Tips & Tricks for the perfect wedding invitation
You and Mr Right have found each other, he has asked the question of questions and the only thing that is missing to stay on cloud nine permanently are two small words: I do. Planning the wedding of your dreams will take a lot of time and energy since you want every detail to be perfect. Choosing the right wedding invitation is only the beginning. Your guests want to be addressed in a personal way and you want them to get as excited as you are about the wedding party. So here are some tips and tricks to make sure that this first part of your wedding planning is a success.
First rule: Impress your guests with a fine, personal invitation and make them feel special. Every person should get a sense of how important it is that they are there with you to celebrate this wonderful occasion.
Make your invitation as unique as possible by designing it yourself, adding photos or choosing one of the hand-picked designs from our special wedding collection. If you decide to send it out via post the paper should of course be of high quality.
Addressing each guest personally is always the best way to get their undivided attention and make them feel welcome especially if you are sending out your invitations online.
So what is the best option for sending out your invitations – via post or online? Printing your invites on paper is very nice but takes a little more time than sending them out via email. No matter what you choose, we offer both options. If you can't decide you can even choose to combine the online and offline world.
Sending out online invitations demonstrates a sense for the environment through lowering paper production. Also it is much easier to manage guests' responses in our online tool. On the day of the wedding your guests can easily access their invitation on their mobile phones and save information on location, accommodation and present registries.
Don't forget to provide all of the above in your invitation. Make sure your guests don't get lost and give them as much information as possible on date, time and location.
If you have certain preferences on dress code, colors or anything that might fit the party – let your guests know in advance to avoid unpleasant surprises.
Send and donate! If you use our special Eventkingdom charity stamps for your sendings each one will equal a donation to the SOS Kinderdörfer organisation.
Don't forget to send out thank you cards after the wedding and let your guests know how much you enjoyed their presence and gifts.
Last but not least – your special day should be remembered. Upload your photos on Eventkingdom.com and share them with your guests individually.
---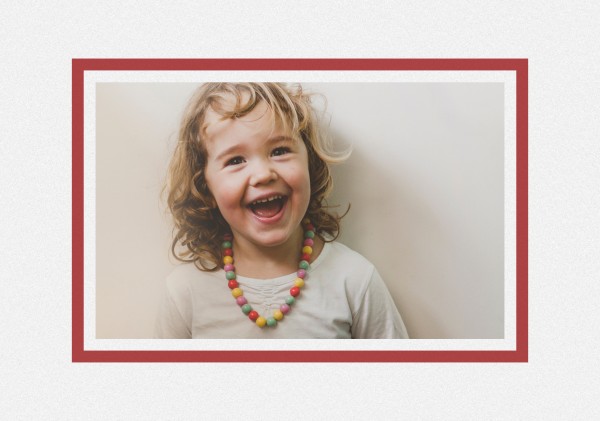 Say cheese! How to create your personal photo card masterpiece with the right app
Every year several cards are sent out for a variety of purposes such as christmas, birthdays, birth announcements and many more. Photo cards can be sent online or as classic paper photo cards. Sending out your own photo card is a highlight and especially joyful for family members and friends who live further away and don't see you regularly. Most hobby photographers use their smartphones to capture exceptional moments spontaneously. So how can a snapshot become a masterpiece, which is worth sending out as a personal photo card? To find a solution we tested four different photo apps and summarized the results for you below*:
1.) Camera+: The greatest memories are mostly captured spontaneously with the one item everyone carries around on a daily basis – the mobile phone. Unfortunately, these pictures are not always eye-candy. Camera+ is a great way to improve your picture the minute you're taking it by using a display stabilizer and a 5-second tripping delay. In addition, the app offers several options to modify the picture afterwards. Existing snapshots can be modified with different filters as well as color and brightness variations. The app can be purchased in the app store for 1,79€.
2.) ProCamera 7: Available for 3,59€, this app is obviously a lot more expensive than the previous one. ProCamera 7 focuses less on post editing features but offers a variety of functions, which are instantly helpful while taking a picture. This includes e.g. settings for formatting and exposure time as well as a night modus and an option called Rapid Fire, which allows taking several pictures in very quick succession.
3.) Hipstamatic: Does nostalgia hit you around christmas time? If your answer is yes, this app for 1,79€ is a match for you. A variety of lenses, flashes and films will transform your digital photo into a piece of art from an analog era. The basic available features consist of two flashes as well as three lenses and films. More features can be purchased for additional charge.
4.) Pocketbooth: Though it seems like analog photos are from a different time period, many people still enjoy the charm of a fun photo series taken in a public photo booth. No matter what the occasion, they love making memories and sometimes even act silly trying to stuff a group of people into the small booth. Pocketbooth mimics the photo booth experience by taking a series of pictures in a row and creating a photo-stripe. The photo-stripe can be edited afterwards by using several different filters and frame colors. This fun app can be purchased in the app store for 0,89€.
*Please note that the research on this article was done in October 2014. Prizes or features of the mentioned apps might have changed over time.
---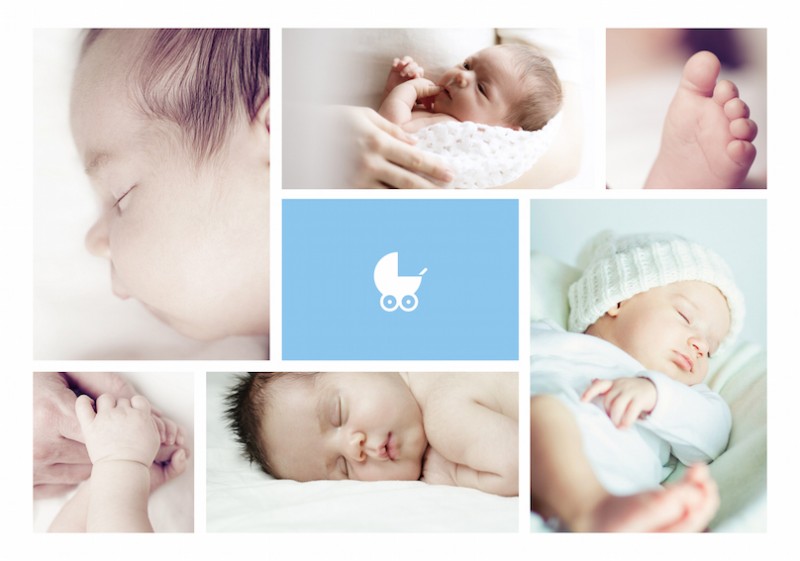 Baby Alarm – Preparing for the big day
A baby is the most wonderful adventure of all. Taking on this major responsibility is challenging and can be scary from time to time.
Planning and preparing for the big day are two indispensable things to do if you want to save money and hold your nerve later on. Of course family members, friends and colleagues don´t hold back with giving advice and buying lovely presents at the baby shower. Especially grandparents are the ones that make some of the largest contributions to the set up a proper baby room. This can include the baby bed, the wardrobe or the crib.
As soon as the happy message gets around – either online or paper – to the more extensive circle of friends, more useful and wonderful presents will arrive. Among them, several will only be useable in a couple of months. Therefore it is important to select in advance and prepare the things that exactly meet the most basic needs of the newborn. When the baby comes home from the hospital it will mainly sleep, eat and has to be kept clean. Soon it will start to discover its surroundings playfully. Therefore, the following things should already exist:
Baby´s changing, diapers, baby powder, cleaning tissues
Crib
Baby phone
A music box
Stroller
Pacifier and baby bottle
Clothes
Car seat for babies
Books about babies
For the most part your baby just needs your love and care. With the combination of both you should be on the safe side. If problems arise, don´t panic: Practice makes perfect and other parents will surely offer practical advice and assistance.