Wedding Planning
We look forward to showing you how we can assist you with your Wedding planning; announcing your Engagement, sending Wedding Save the dates and collecting postal addresses (if you want to send paper), sending Wedding invitations (multi event or single) online or with paper, managing your guests, printing cards for your Big Day, e.g. Menu Cards, sharing photos and last but not least sending Thank you Cards.
Engagement announcement, yes or no?
The decision to announce your engagement is a matter of personal preference. Some couples do it and others find it unnecessary. Often couples just post their engagement on Facebook. Also ok! If you want to announce in digital style though, then we recommend sending a charming engagement card via online post by Eventkingdom. If we are talking about celebrating your engagement, then that is a whole different question. An engagement is of course a great reason to celebrate! 😉 Best browse our design collection for engagement invitation cards. Let us know if you found a card you like. You can use it to send online invitations or order paper cards!
Wedding save the date (4-6 months)
We recommend sending a save the date card for your wedding to make sure that your friends
and family have time for your special day. Most customers choose to send their save the date card roughly 4 to 6 months before the wedding date. We do though also experience couples, who send their cards over a year in advance.
Very important is to find a card design you love. Often couples want their invitation cards and thank you cards to match their save the date design. This if of course possible at EventKingdom, independently of your decision to use online or paper or both. If you like the the card design with the water colored roses you can start browsing here.
A function that is often used when save the dates are sent, is to collect addresses. This is helpful if you wish to invite to your wedding with classic paper cards. Please browse our paper card collection for wedding invitations to find inspiration. Couples often make use of our reply page functionality when sending their save the date card, e.g. adding travel and hotel information or contact details of the best men and brides maids.
TIP: Many customers ask us if they can integrate reply options, like "attend" and "decline" into their save the date online sending. This is technically possible, but not recommended by us. The term "save the date" speaks for itself. RSVPs (replies) are best communicated through the wedding invitation.
Wedding invitation (1 to 3 months in advance)
It is important to understand how many guests will be attending asap. We therefore recommend sending the wedding invitation at least three months in advance.
Very important is to find a design you love! A favorite flower or elements of the wedding location can be integrated into the design. Photos or an emblem can also add a personal touch. You have three options:
1. You can browse our talented designers and illustrators from all over the world.
2. You can upload your own design.
3. You ask us to design your invitation for you.
Wedding invitation online or paper
EventKingdom offers two possibilities to send your wedding invitations:
1. Online post: You can send Online post invitations and benefit from special online features and recipient monitoring and guest management.
2. Paper cards: You can order and send paper cards and benefit from fine paper and high quality print. You can order your cards and take care of the packaging yourself or you can have us do it for you.
Both optoins can be used separately or in combination.
Paper and online in combination

EventKingdom gives you the possibiity to order beautiful paper cards and link them via a domain to a wedding website like www.weddingexample.com. Your guests can easily RSVP on the wedding website and also find all needed information concerning hotels, programme, travel, registry and more.
If you want to be cutting edge, you can also print a QR Code onto your paper cards. Your guests can use any QR code reader or the QR Reader in the EventKIngdom app to easily acces the wedding website. So, you can be cool and also make the lives of some of your guests easier, giving them the option not to have to type in the wedding website domain!
Wedding App
When using online post or sending paper cards with an online connected version your guests have easy access to their wedding invitation through the Eventkingdom app at all time.
The days of: "Shoot, I forgot to bring the invitation with me!" are over!
Wedding invitation paper
Many wedding couples want to send paper invitations for their wedding. This is why we focus on fine paper and high quality print. In addition to our standard paper product with single and folded cards in various formats, we can also handle special wishes concerning paper or print. The best is to define this in a telephone call. Of course you can order samples any time to confirm that you are happy with the design and the paper and print quality. The design with the roses can be found here.
Wedding invitation online
Are you planning a wedding invitation and looking for a stylish alternative to the classic paper invitation? Then you have come to the right place! This is exactly what we do!
EventKingdom online post offers you all possibilities to be just as chic as when you send paper, but also enjoy the practical benefits of online, saving money, time and also "helping" to save the planet!
As described above you can design your card and then add additional special online features to your sending. You can choose to use the animated envelope, which you can design as you wish. You can upload your own stamps, choose a beautiful lining and even add a "prioritaire" sticker or wax seal on the back! You can select a matching background design and also add your favorite song (or even better YOUR song!).
You can add various pages to your reply page for free, e.g. "program", "hotels", "registry", "contakt", "photos" and many more. You can create albums on the photo page, e.g. of the location or you as a couple and create the optimal surrounding for your wedding invitation.
Wedding invitation online with multiple invitations
Weddings often have multiple invitations, e.g. Rehearsal dinner on Friday, Church ceremony and Wedding Soirée on Satuday and a Brunch invitation on Sunday. EventKingdom allows you to send one invitation and simultaneously ask for replies to all the invitations listed above – just like when you print multiple wedding invitation cards with a reply card and send an envelope. To see a real example please click on the image to the right or here. In case you additionally have different guest lists for each invitation, this is also possible. You can use the EventKIngdom guest management to select recipients for all or only certain invitations. A recipient either sees all invitation cards and can reply to all invitations or he sees only the invitations he is invited to.
Reminder and guest management
Thanks to the EventKingdom recipient list you can monitor your sending and manage your guest list including RSVPs for free. Reminders and messages can be sent for free at any time.
TIPP: We recommend to send a reminder roughly 2 weeks before the RSVP date, in case you set such a date. Otherwise a reminder depends heavily on the event. We do not recommend to bombard your recipients with reminders. An good old telephone call or text is sometimes the better option.
Your big day!
You will surely be needing many paper products for the big day, e.g. Menu cards, Church booklets and table cards etc.
EventKingdom offers all products needed for your big day and can help you design or order them.
After your big day!
You will be most probably be enjoying your honeymoon! We wish you the best of luck and a trip to remember!! The next events "1st birthday", "Birth announcement" etc. are possibly just around the corner! 😉
Before the pleasures of family planning begin, we are sure you will want to share your memories of your fabulous wedding with your guests. The best and easiest way to do this is to use the free photo page on your reply page. You can add the Photo page easily in the reply page editor and then upload as many albums as you wish. After publishing each album you will be displayed an option to SHARE the photos with your guests.
Thank you!
Please dont forget to thank your guests for their wonderful gifts and also for coming from far away places and investing so much time and effort to be there for your big day.
Beautiful thank you cards on paper are recommended for weddings, but if you are modern and wish to be environmentally friendly, then online post is the next best thing! If you decide to use online post, then we can recommend using our described photo page above when sending your online thank you card. You can send one email with a wonderful thank you card and simultaneously share your photos with your guests and others.
So, that's it for now! Thank you very much for reading our post! We hope you found some helpful information and entertainment. If you have any questions on how to use www.eventkingdom.com please do not hesitate to contact us!
Yours Truly,
Patrick von Ribbentrop
---
What's your wedding style?
Every wedding has it's own style, it's own color theme and even a particular motto. Therefore, also  the save-the-date cards, invitation cards, menu cards and thank you cards are designed accordingly.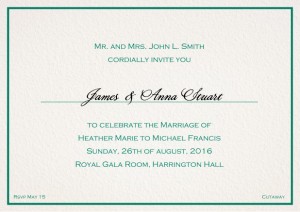 Classic Cards
Are you getting married in style on a bigger estate or a small castle? Then, our classic cards are made for you.  When opening the invitation card your guests will immediately be fascinated through simple elegance.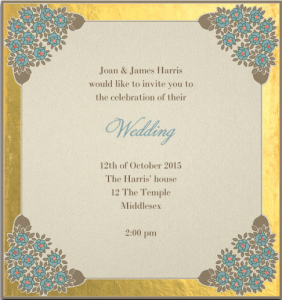 Cards with that special something
If you are rather looking for a card that is special in it's own way, then you will love our cards in the style Art Nouveau or water colors. Our talented designers are creating extraordinary card designs to make every dream card come true. Therefore, you will find cards with floral designs, playful edges or in neon colors.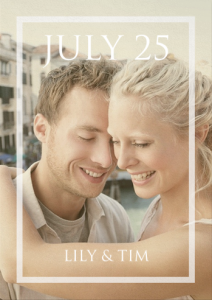 Photo Cards
Would you rather like a picture to speak for itself, giving your card a personal touch? With photo cards by EventKingdom you may perfectly put yourself in scene and attune your guests to the big day ahead.
At EventKingdom you will find invitations that fit you and your wedding style best. You can choose from many different designs or design your card according to your wishes. There, you may send your card online or in paper format. With the practical guest management you can immediately see who of your guests will be attending your wedding and who is bringing a plus one. The wedding program, important venues and info to the contact person may easily be shared with all of your guests. Before the wedding, guests may be attuned by receiving engagement photos. After the big day, wedding photos can be shared to remember the wonderful day spend together with only a few clicks. Therefore, the fastest and easiest method of planning your wedding is through online and paper invitations, menu cards, save-the-date cards and thank you cards by EventKingdom.
---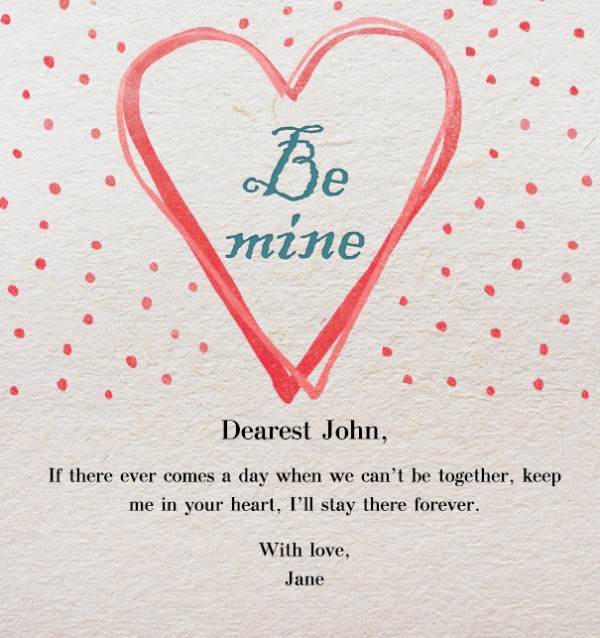 Love is in the air
Opinions about February 14th diverge strongly. Some people claim that this "oh-so special day for lovers" was created by the confectionery and flower industry. Others are truly convinced that it has its origin in the decapitation of two christian martyrs named Valentinus.
Whatever the case, nowadays it's mostly known as an occasion for people to reveal their love to others – which is always a great idea! So why not show your love on Valentine's Day this year? Whether you decide to buy chocolate or flowers, the oldest and best way to reveal your true feelings remains through sincere and lovely words. For decades, romantic poets have used the efficacy of words to express their emotions in a romantic fashion and to finally reveal their affection to adored women. This is something you can do as well!
Of course not everyone is fit to receive a nomination as second Shakespeare. Moreover it is certainly not an easy task to put feelings into words. Just keep in mind that it is not about perfection but rather about the originality and verity of your words! That´s why several bumpy but self-written lines have worked miracles. So prepare a pen and paper (or switch on your computer), let your creativity float and use the magic of words this year to reveal your love on a beautiful Valentine´s card!
---
 Just like Daddy!
Who does not know that? Right after the baby has come into the world the affectionate speculations about similarities between the newborn child and the parents start. Dad´s noise is clearly recognizable, or not? And these big blue eyes are definitely from the new mum, or not? Well, by visiting the newborn child or by looking at the received birth announcement card one statement is pretty common: Just like Daddy! But is that right? Do strong similarities between a newborn child and its daddy exist? Is that a tactic from Mother Nature to deepen the relationship between father and the baby right after the birth? It would be a logically comprehensible approach. The mother can be sure about her baby, because she gives birth to it, but concerning the father doubts can remain. Strong similarities between the father and the newborn child could reduce present doubts. Interestingly, the approach could not be proven empirically. A variety of studies from Britain and North America have analyzed that matter and came two very surprising results. First of all, a strong similarity between the newborn child and the mother could be proven scientifically, but a strong similarity between the baby and the father was not found. In addition to that, the studies came to the result, that the new mothers see a strong similarity between their children and her father. What was Mother Nature thinking when she invented that?