Featured designers - La Familia Green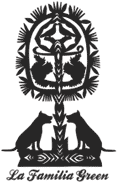 Stationery designer Mollie Green grew up among the tumbleweeds and cotton fields of Lubbock, Texas.

Her childhood was filled with games of hide-and-seek in her family's furniture store, itchy lacey dresses that her mother made for her, and her grandmother's Quimper collection.

After moving to the Midwest in high school, Mollie completed a BFA in painting and printmaking at the School of the Art Institute of Chicago.

Attempting to integrate retail skills with artistic training and a love of correspondence led to the birth of »La Familia Green« in 2005.

Mollie has filled the »La Familia Green« studio, located in the Greenleaf Art Center on the far north side of Chicago, with things that inspire her – good music, plastic Mexican wrestlers, colorful ribbon, Czech finger puppets, back issues of Seventeen, and vintage wildlife encyclopedias.

Her dogs Zuzu and Stickers greet visitors at the door.
LEARN MORE