Check in assistant
Create event for check in
Please see below how EventKingdom can help you check in your guests:
Benefit from EventKingdom's Check in assistant, which can be easily shared with multiple devices and used for unlimited guests. View live examples of how our Check in assistant is used incl. photos and videos, e.g. from the Berlinale 2019.
Check in assistant is included in Professional and Enterprise plans.
(Please note: Our QR Code system can be used with 3rd party Check in and Badge printing systems.)
Easy sharing

Share easily via email and open Check in on device of your choice

Unlimited devices & guests

Use as many devices as you need for small or large lists

Efficient checkin

Quick search (name or company) / QR code reader (email, PDF or Wallet Pass) / Info display for tags, Corona, GDPR, location/seating etc.

Name badge printing

Print name badges with Name, Company name and Logo easily and quickly during Check in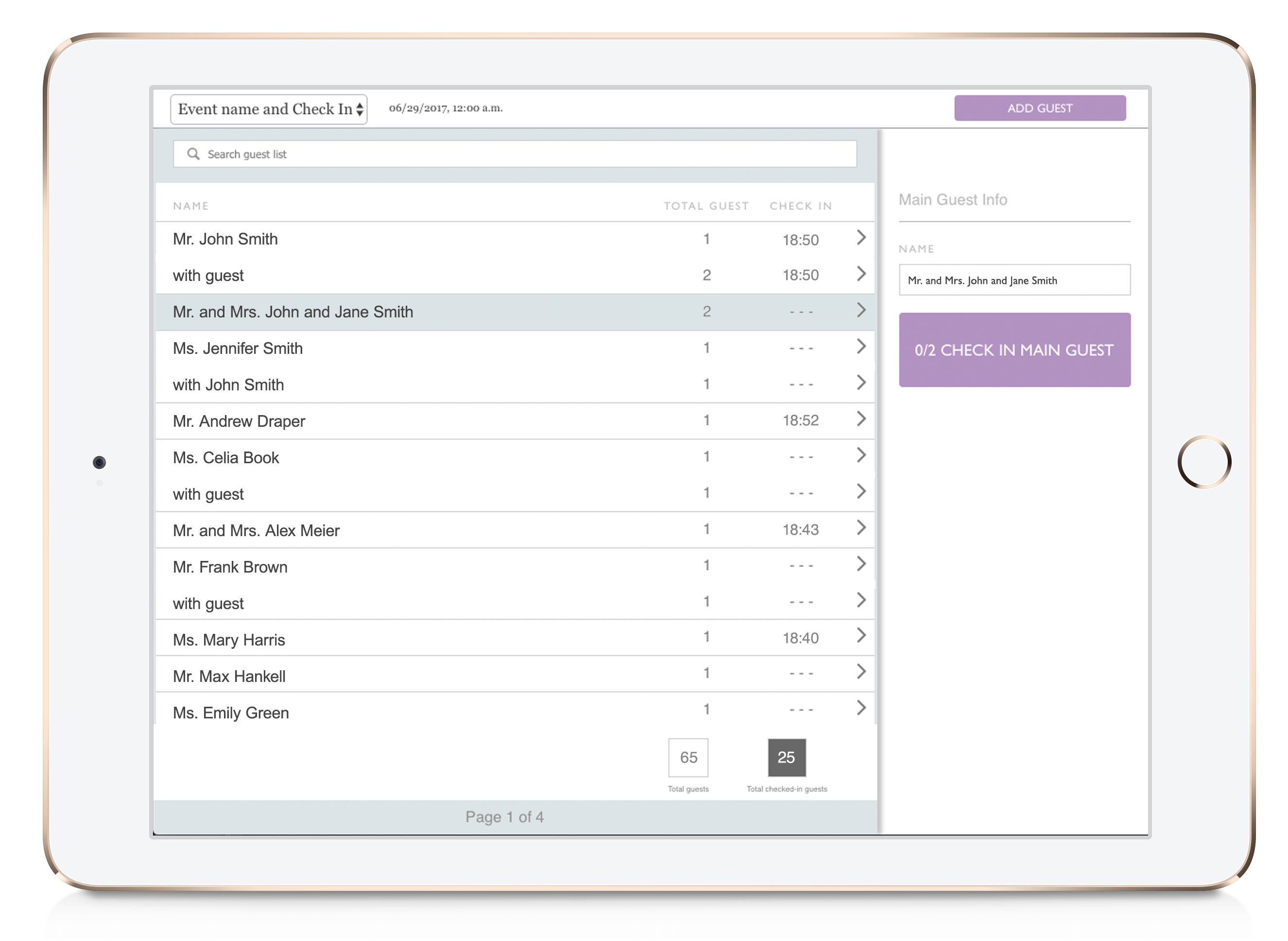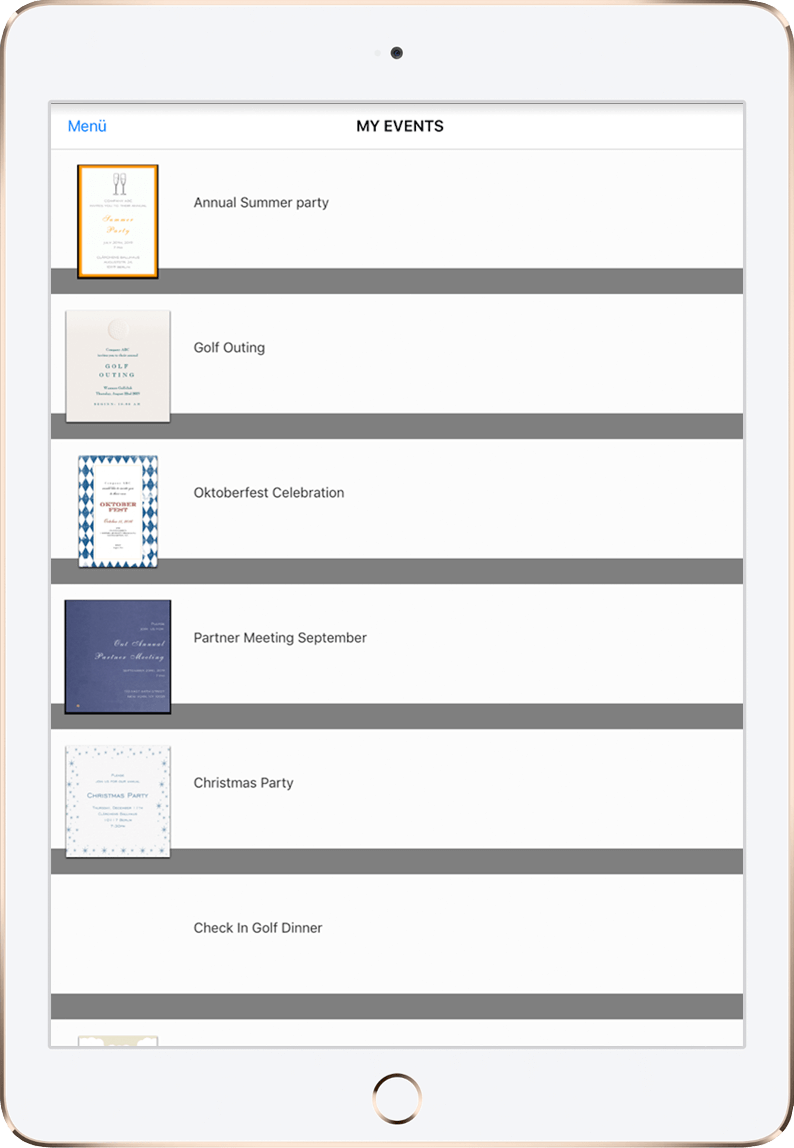 Easy access to your my events
List of your events
Easy access to Check In Assistant
Intuitive display and navigation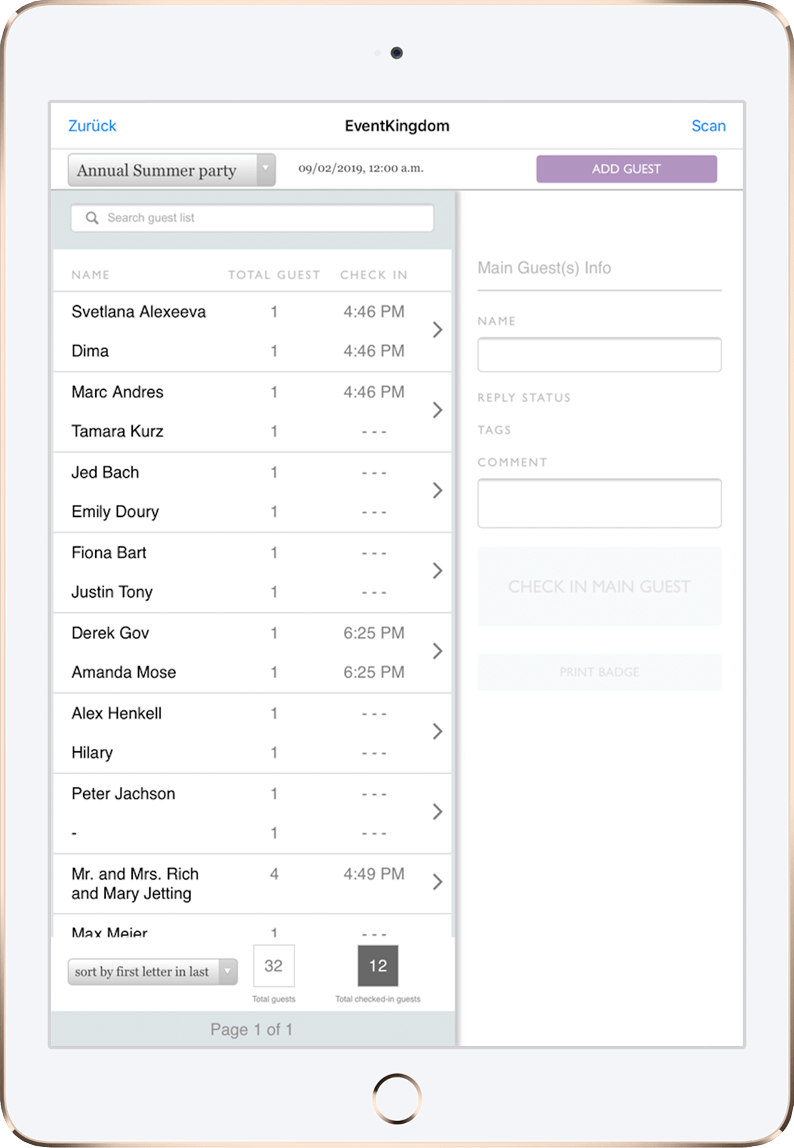 Check In Assistant
View guest overview
View Check in stats
Add new guests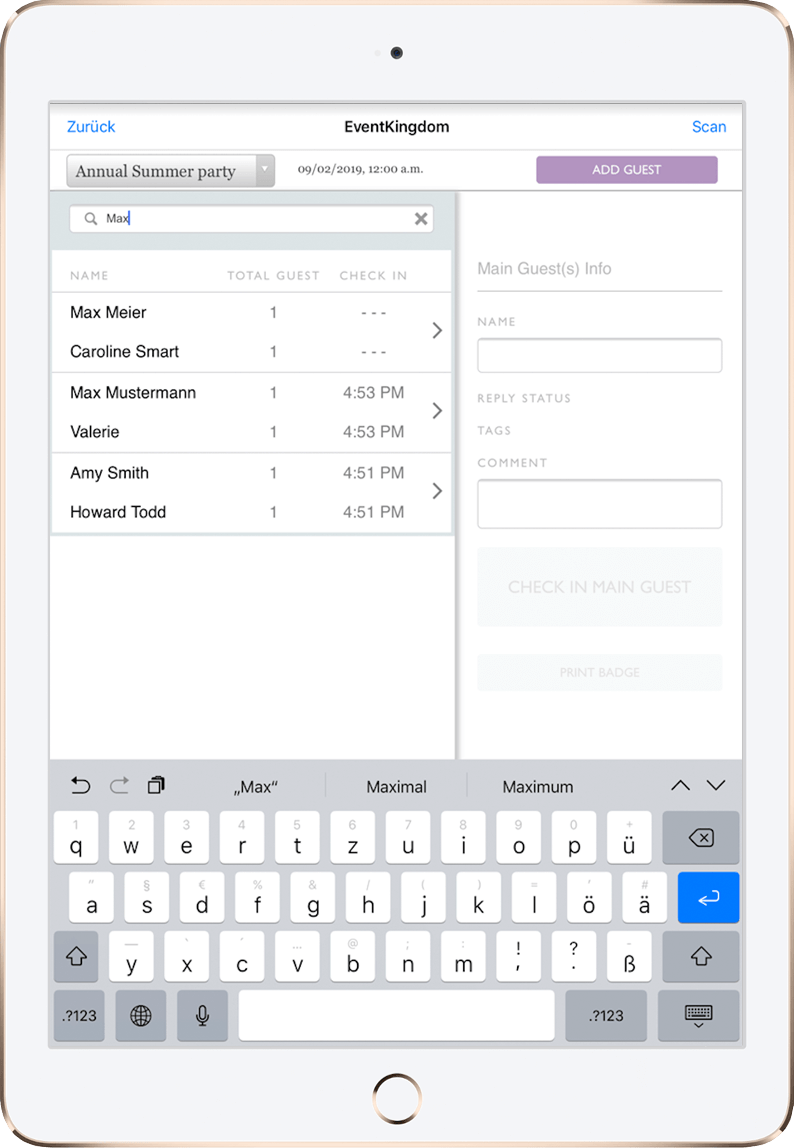 Quick search
Find guests by name
Find guest groups by company
Find accompanying guests by name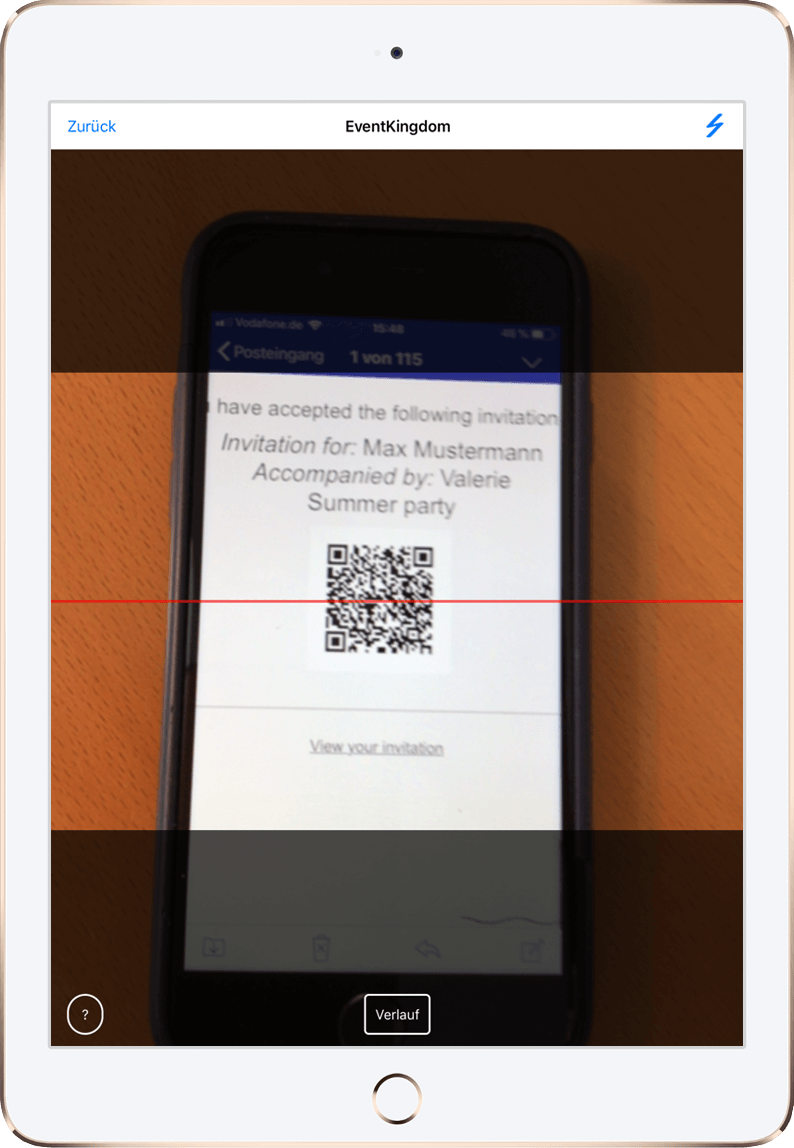 QR code scanner
Scan QR codes quickly
No manual search needed
Professional experience
Quick check in
Check in main guest(s)
Check in accompanying guest(s)
View status, tags, corona status, notes, e.g. VIP, seating etc.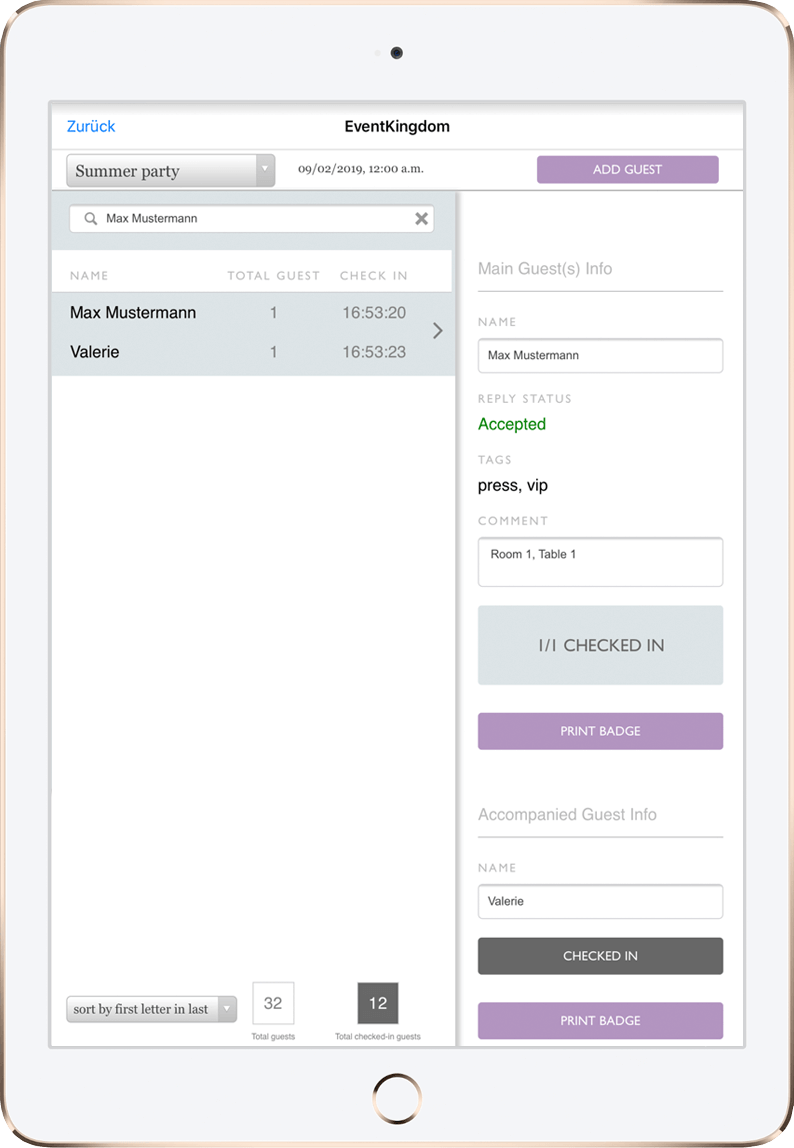 Quick badge printing
Efficient Badge printing during Check In (IOS & Android)
Optimized for small and large events
Use multiple Check In devices with muliple printers
Benefit from an unlimited, easy to use, quick and efficient Check in assistant:
Your guest list for Check in is ready to go.
No stress with exporting and importing.
Check in assistant can be shared easily via email with multiple devices.
Check in assistant can be used for unlimited guests.
Check in assistant needs internet access. (Best organize internet access for Check in only.)
Optimized Search and Check in function on all touch or mouse based devices.
QR codes can be easily scanned and lead directly to the guest's check in page.
Print Name Badges with Name & Company Name of each guest and a Logo easily and quickly during Check in.
Print Name Badges for accompanying guests.
Supported Printers: Brother Printer (Recommended Printer: QL 810W)
Supported labels: Brother-DK-11201 (29mm x 90mm) & Brother-DK-11208 (39mm x 90mm)
Guests can show email, a printed PDF or use their wallet pass.
Collect data per recipient / guest during RSVP like company name, postal Address, corona status, GDPR etc. and display it during check in.
Add data like location or seating infos per guest to be displayed during check in.
Automatic synch of your Check in data with your recipient list reply and guest management.
Compare who has RSVPed with who ended up attending your event.
Copy only Checked in guests into new events to e.g. send thank you notes.
Upload photos and share them only with recipients, who attended your event.