We love parties and we love IT. This motivates us every day to create a superb product for you and your recipients/guests to enjoy! Patrick started developing the concept of Online Post in 2006 with the goal to offer the most personal and beautiful online invitations, save the dates, cards and announcements.
Our online post was enhanced by fine paper products in 2014 offering you all needed services for your event planning, including online guest management for paper invitations.
EventKingdom is a do it yourself product enabling you to choose designer cards and customize them to your needs or upload your own designs. You can design envelopes and manage your sending with ease. Please visit our online examples and find inspiration. Online and paper customers benefit from our helpful and free monitoring and guest management.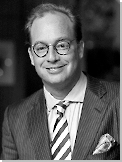 Patrick von Ribbentrop
(CEO)
... has a passion for design and IT. He started one of Germany's first University merchandising companies as a student in 1994 signing a license agreement with the Humboldt University zu Berlin at age 22, winning prizes for Germany's most chic University Tee. Today the company is the first to market the "European Soul" launching a brand MAXHENKELL EUROPE - www.maxhenkell.eu in 2008.
Since 1999 Patrick has been engaged in IT, starting Germany's leading account aggregator cooperating with Vodafone, E-Plus, Jamba and O2. In 2006 while organizing a large "weekend bash" Patrick recognized the need for a fine and personal "digital post" and began developing EVENTKINGDOM.